Massage Events with Baumbick Chiropractic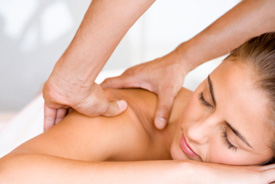 Our Employee Massage Day is a community outreach program provided FREE to your company by our state-of-the-art health and wellness facility. What office environment wouldn't benefit from safe, effective chair massage in the midst of a hectic day? Please take a few moments to review this information. It will introduce you to this popular event and provide all the details to get started.
Massage has been used all over the world to remove muscle tension and interference from the body. Our outreach program provides soothing massage therapy to your employees with no strings attached and fulfilling our mission to help people in our community live healthier lives. It also allows people to learn about us in case they need our services in the future.
Each year we select companies in our community for a day of healing and rejuvenation. We know from experience that companies who use our free massage program enjoy this relaxing break in the work day and experience a more positive work environment. After all "A HAPPY EMPLOYEE IS A PRODUCTIVE EMPLOYEE!" Our massage program is an excellent way to show appreciation for your employees, and it's FREE to you!
Our massage Therapists are highly skilled and are experts in handling aches and pains that employees tend to experience in the work place. We provide one or two therapists for on-site chair massage for two to four hours depending on the size of your company. Larger companies may qualify for this service for two or more days. We do all the work, and you get all the credit!
What exactly happens at a Massage Event?
We will bring in a licensed massage therapist to provide free 10 minute chair massages. These events usually start off at 2 hours and are extended for larger companies with a higher number of employees. If you have more than 50 employees, we will schedule extra days or a couple different events to ensure every department gets a little TLC!
Prior to the event we send out a personalized sign-up sheet for your employees to fill out. This will ensure that everyone gets a specific time and they can come when it is their scheduled time and nobody misses out! When you come for your massage you will fill out a short consent form which gives us a brief history and lets us know where to focus the massage! After their wonderful chair massage your employees with also be eligible to receive a complimentary gift certificate giving them a free consultation/Evaluation/X-Rays with Dr. Baumbick followed up by a FREE 30 minute massage! This will enable your staff to remain relaxed and stress free off the clock, so your business's productivity will increase, and your staff will be happier!
So how do you get one of these phenomenal Massage Days for your company?
It is as easy as sending an email to baumbickchiropracticoutreach@gmail.com, calling Linda at 440-353-0707, or go to the Request Event tab and fill out the short questionnaire and we will do the rest! We will see what date works best for you within the next 8 weeks……….Then you can sit back, relax, and enjoy!